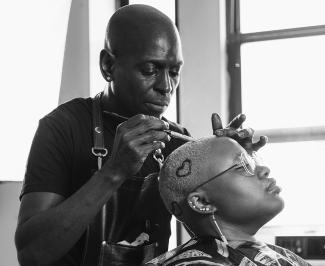 SMALL BUSINESS SERVICES
We provide free legal, finance, and marketing resources and small business support to BIPOC entrepreneurs, women, LGBTQIA+ entrepreneurs, immigrants, veterans, entrepreneurs with disabilities, low-income entrepreneurs, and formerly incarcerated entrepreneurs.

Let's work together to achieve your dream of building a successful business for yourself, your family, and your community.
The #AllforSmall Community
of small businesses are owned by persons of color and/or women
of small businesses are owned by Black individuals
of small businesses are owned by Latinx individuals
Qualify for Legal, Finance and Marketing Advice
Target Communities
To be eligible for pro-bono services, you must be a member of a one of these communities:
• Communities of color
• Immigrants
• LGBTQIA+
• Formerly incarcerated individuals
• Veterans
• People with disabilities
• Low Income Individuals (ex: Federal Program Recipients - SNAP, Housing, Medicaid; below 300 FPG%)
• Women
 
Business Stage
We serve entrepreneurs who are currently operating and selling goods/services and can demonstrate recurring sales of at least $500 within the past three months.
Financial Requirements
Businesses must also have less than $1M in revenue over the last 12 months. Applicants must have a household income under 750% of the Federal Poverty Guidelines, and the household must have less than $100,000 in assets (not including the value of one's primary residence or retirement savings, such as 401K or Roth IRA accounts).
Our Promise
Start Small Think Big, Inc. is dedicated to partnering with individuals who share our values of diversity, equity, integrity, acceptance, and inclusion. We welcome business owners who, like us, accept customers, clients, and employees of all identities. These values support our vision of entrepreneurship and guide the way we work. For more information on our values, please click here.
Please note that this criteria is an attempt to assess an Entrepreneur's access to capital and may require further review based on information, answers, or statements provided before or during the application and onboarding process.
How To Get Free Small Business Support
1. Fill Out Application
Click on the link to fill out the application. It should take between 5-10 minutes. Make sure you have your recent business info handy (revenue, expenses, and sales).
2. Meet With Our Intake Team
Within five days after submitting your application, you will hear from us with a decision.
If you and your small business are eligible for free resources, your next step will be to upload proof of personal finances and business sales and schedule your service assessment.
3. Access to Our Free Services
Based on your Intake, our team will help prioritize your business needs and outline a plan to connect you to our network of legal, finance, and marketing professional volunteers and programs. Eligibility lasts for 12 months, after which you will need to re-apply.

*Note: We are not able to guarantee timelines for our services.
Free Small Business Resources
If you are not ready to apply, you can always visit the Resource Center on our website, available for free to the public, where you can find a selection of articles written by experts across legal, finance and marketing topics. Find upcoming events and workshops developed in partnership with top law firms and financial institutions, watch a replay, and more.
An aggregate, but not necessarily comprehensive, list of publicly available funding sources that may be available to entrepreneurs is available in our resources section (e.g., Black, Immigrant, Person of Color, or woman-owned businesses).
We partner with the local community, corporations, entrepreneurs, tax and government institutions, and other entities to produce virtual and in-person events and workshops for small business entrepreneurs looking to learn, network, and grow.
We connect entrepreneurs with a network of professional volunteers from across the country. From helping to select a legal entity, draft contracts, develop a marketing plan, understand financial statements, and more, see the full list of services we offer on our Expertise page.
Join the community to read personal stories from other entrepreneurs and get tips and insights from our how-tos and other informative articles to help you along your small business journey.
Browse through our video library hub to see past workshops on various finance, legal, marketing and leadership topics led by Start Small Think Big employees, entrepreneurs and our partners and volunteers.
Small Business Testimonials
Frequently Asked Questions
Do you have questions about volunteering opportunities? Find the answers you need, and browse a list of frequently asked questions. You can always contact us if you need further assistance.
OUR SMALL BUSINESSES IN THE NEWS