RECAP: RACIAL EQUITY AND COMMUNITY CHANGE PANEL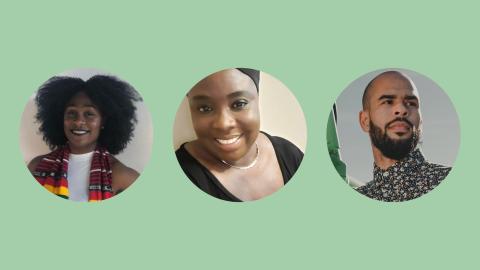 Start Small Think Big provides free legal, finance, and marketing support and resources to small business owners nationwide; we're intentionally focused on serving small business owners from marginalized communities. The last couple of years have reminded us of just how critical it is to center equity, especially racial equity, across all of our work. Our goal is to create opportunities for small business owners to succeed while prioritizing those most impacted by structural inequities.
In November, we hosted an Ask An Entrepreneur Panel: Spotlight on Racial Equity and Community Change — our first equity-focused dialogue with our small business community members. Ellie Stephens, Start Small Think Big's Client Relationship Director and Hana Kamal, Start Small Think Big's Director of Equity and Inclusion, partnered with three small business owners to facilitate the much-needed conversation.
The panelists included:
Simone Gables (they/she)- founder of OAAARS,  a people of color-led consulting agency that provides social-justice-centered training to create safer and more inclusive work environments.
Kaybee Beach (she/her) - founder of Kaybee Village, a business that provides holistic support for new parents, including birth and postpartum doulas, night nurses, newborn care specialists, and more.
Vaughn Dabney (him/he)- founder of Unoma Haus, a company that builds high-quality, off-grid van conversions for people who desire nomadic lifestyles and the freedom to travel.
If you couldn't attend the event, we invite you to check out the recording and experience the impactful conversation for yourself.  All three of these small business owners have incorporated equity into their business foundation, practices, and purpose, with the shared goal of creating a positive impact on the communities they support.
Here are a three overarching themes from the discussion that we think are worth remembering:
---
1. COMMUNITY
There is power in the collective. The panelists discussed community and the culture of individualism. Identifying as members of the Black community, they explored how communities changed due to gentrification, redefining how people view the concept of community and how we relate to one another and work together towards a common goal. The small business owners also unpacked how communities are innate to entrepreneurs to help them grow their businesses and provide opportunities to innovate and advance society.
---
2. TRANSFORMATION
White-dominant narratives have been the gatekeepers of space, dictating to other races where they belong, when, why, and how. It has been a constant challenge for people of color to create and own their spaces and stories. The panelists reflected on their experiences confronting bias in their work, calling on others to hold themselves and one another accountable to identify and mitigate these false narratives and use their voices to create their own account.
---
3. HOPE
Hope is underrated and provides the potential to see beyond limitations. However, it has systematically been denied to communities of color, limiting their ability to see beyond where they currently are. One way to instill hope is to redefine what it means to be a homeowner and attain one. We need to abort systematic oppression and tackle systems such as redlining that make it difficult for people of color to own homes in specific neighborhoods.
---
As we head into 2022, Start Small Think Big plans to continue hosting community events and creating spaces for conversations that matter to the small businesses we work with. Stay connected and follow us on social and RSVP for our upcoming events here.